We did it and thank you so much for following along these past few weeks! Big shout out to Stephanie-Casawatkinsliving for including me in this fun group challenge.
If you recall a month ago we set out to refresh our entryway- it was in dire need of a makeover. This post will prove my point……..
The entry or foyer is the way in which a home welcomes its guest; it's the first impression that your visitors will get so you want make sure you dress to impress 💁🏾‍♀️💁🏾‍♀️
Let's take a quick trip -BEFORE
Now – Can we get to the good part😉
The area in our home is a two story situation so that posed a bit of a challenge when it came to switching out our chandelier.
I think the husband was a little hesitant to do this himself so we called for quotes from a few electricians – over $1K was one that we received- that's a hard NO for me! Needless to say honey bunches of "oats" came to the rescue and installed this fixture himself 👏🏾👏🏾 Thanks babe ☺️
Nothing says welcome like a bold and beautiful rug! This masterpiece from Lolori Rugs is amazing! The colors are stunning and I love that it's soft and plush but does not interfere with the door opening and closing smoothly. It's perfect if I say so myself.
The real talking point in this space is hands down this abstract wallpaper from Spoonflower– designed by Danika Herrick
I always planned on wallpapering to frame out the door but wasn't quite sold on any patterns that I'd seen – but when I saw this one yup it was a done deal! Classic black and white but funky just like I like it!
Okay I'll stop telling and just start showing now … here you go peeps
Again thank you so much for hanging with us and make sure you check out the other bloggers beautiful rooms!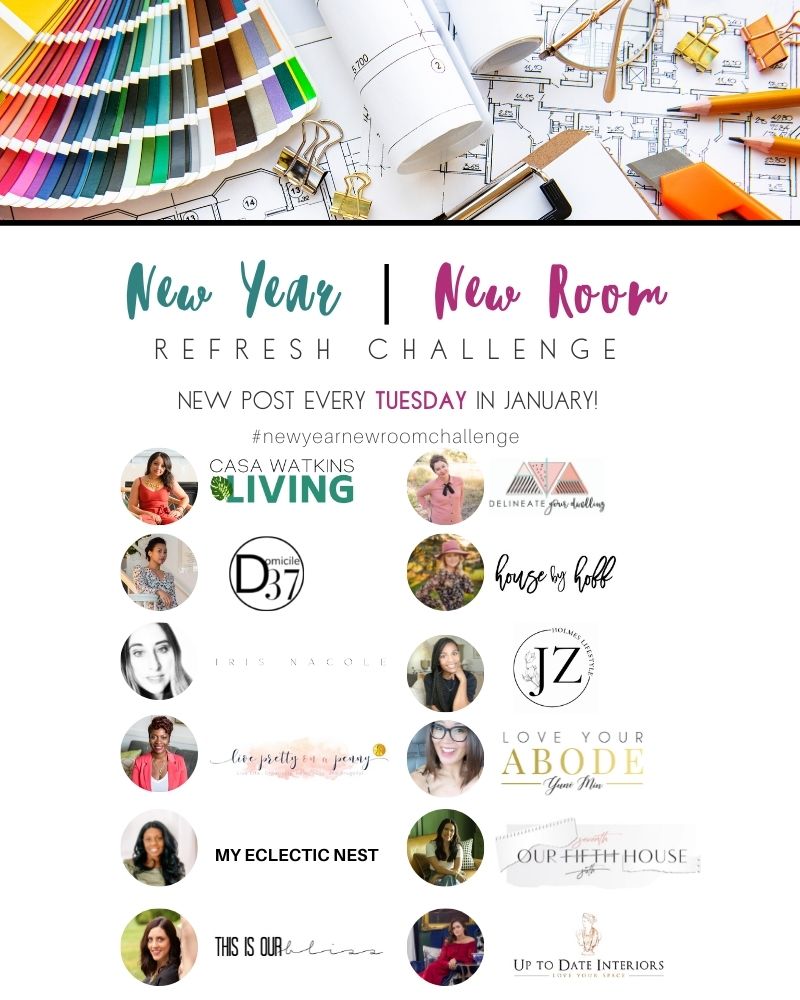 Casa Watkins Living // Delineate Your Dwelling // Domicile 37 // House by Hoff // Iris Nacole // JZ Holmes // Live Pretty On A Penny // Love Your Abode // My Eclectic Nest // Our Fifth House // This Is Our Bliss // Up To Date Interiors
Until next time
Hugs and love